The world went to hell on 13 March 2020.
We'd been watching a slow-motion tidal wave from China come our way since January. We'd hoped it'd stop like SARS in mainland China, and we'd get to say "Whew! Close one." Nope.
We saw it bloom in Europe, but hey–we're still an ocean away from this thing, right? No.
On March 13, I got the email saying "Work from Home until further notice." Then a few weeks later, it became "We'll evaluate but stay home until May 1st at least."
At that point–March 26–covid looked like this: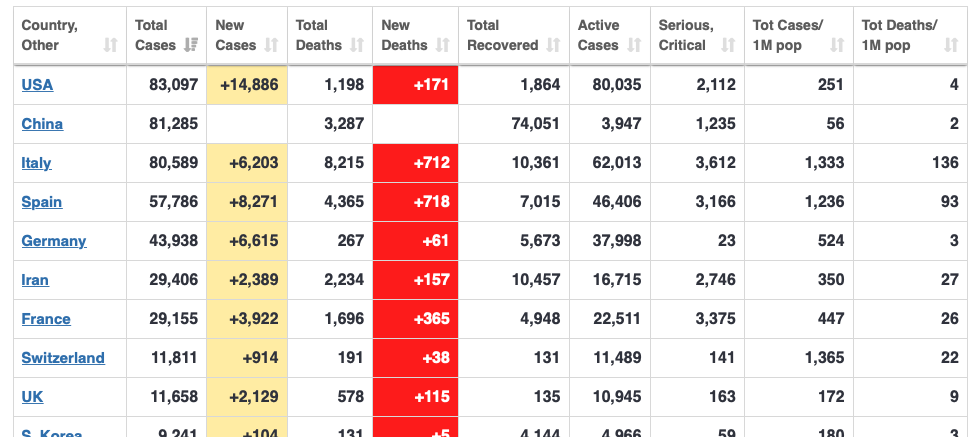 Total deaths in US just a bit over a thousand.
Then they just gave up: "You may work from home until October 1st."
At this writing, a May thunderstorm roiling outside at 9am, these are the stats: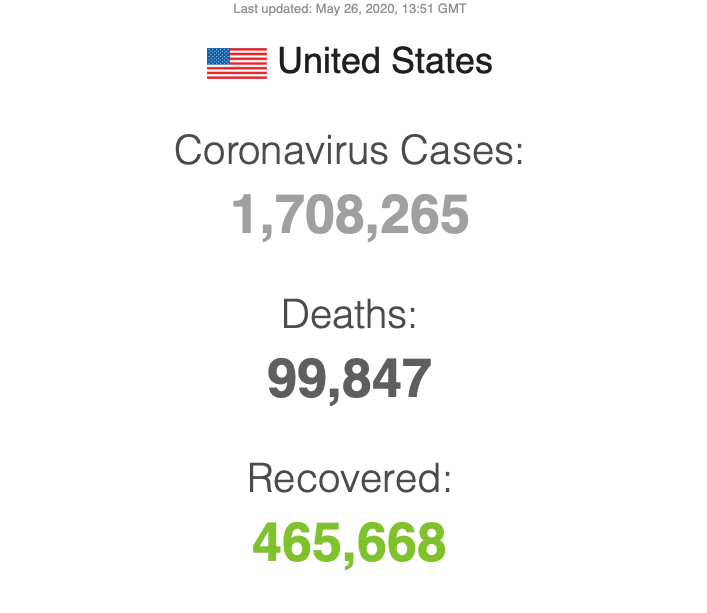 Just about to crest a hundred thousand people. The funny thing is, we thought a thousand deaths was terrible, the news marking the passing of each celebrity.
We've definitely reached a new phase, as it's just daily reports, with callouts if they didn't die of CoVid19.
Seventy four days of lockdown, and Americans are tired of it. Memorial Day just came and went, and the "reopening" wave is upon us. Bars and pools. People behaving like people, getting much closer than six feet apart at least. Texas led the way, and Texas is now blooming > 1k cases a day.
They're talking about a way to play some sort of baseball season, and there are assurances from the powers-that-be that almighty FOOTBALL SEASON will continue unabated. As if that's terribly important.
We've kept busy here at home, relocating both my daughters' bedrooms and cleaning out the garage enough to get both cars in each night. There's been a spate of petty theft in our middle-class neighborhood, complete with Ring® videos, but that seems to be the tip of the iceberg.
Anywhere from one in four to one in three Americans are out of work. Hertz rent-a-car just filed for bankruptcy at midnight Friday.
My work is laughably behind and has been frustrating. I'm burned out, but there's no way to take a vacation. I was up last night until midnight working on infrastructure-as-code work just to get a service to start. I'm easily 2 months behind schedule on what I'm doing.
So that's Day 74. Still feels like the beginning; nowhere near the end.